With this post we are glad to show you a new dosing equipment project for an industrial laundry in Andalucia.
The equipment automates a Girbau Tunnel with a 20.000kg cloth per day production and 3 Wash Extractors.
It has 8 mettering pumps TS-Tunnel EMPIII series managed by the Girbau Tunnel PLC. It generates full reports of the wash programs done by the tunnel due to its TS-Tunnel software. These reports can be downloaded as pdf for their further manipulation afterwards in a PC.
A Multi-machine TS-2 supplies chemicals to the other three wash extractors. (Two of 100Kg and one of 57Kg).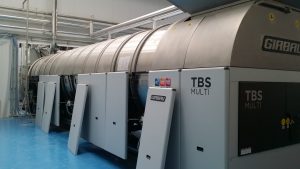 Get in touch with us if you are interested in our TS equipment. We will adapt to your needs in order to offer the best solution to suit you.