Fluids suction lance with minimum level detector for drums and containers.
Available for drums of 20L, 60L, 200L and 1000L IBC containers.
We can also manufacture them in custom sizes.
Suitable for most corrosive chemicals.
Made in PVC and the level float in PP.
Female threaded conexion of 3/8″ or 1/2″ to conect hose nipples of diferent sizes.
Selectable minimum level detector contacts NC / NA by turning the float.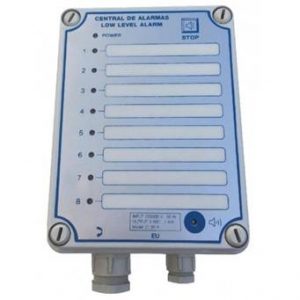 Low level alarm box
Compact and economical system of low level control in bottles or tanks up to 8 levels with acoustic and luminous alarms.
Easy to connect interior printed circuit.
Scheduled for 8 level probes.
Light indication of empty drum and acoustic alarm.
Pushbutton to silence the buzzer (automatic reset) and keep the corresponding pilot on.
Power supply: 220VAC 50-60Hz