We present the IBC Container Holders with metal frame in Galvanized or Stainless steel AISI304, to support agitator pumps and control accessories.

The IBC Container Agitator Stand offers maximum flexibility for various applications. It is available in galvanized iron and in AISI304 with or without agitator and in ATEX as an option.
Energetic or gentle agitation of the product depending on the speed range chosen.
The total homogenization of the package contents by the development of agitation flows to the corners of the container.
The stirrer elements are completely detachable for cleaning without tools
Easy and trouble-free handling of all IBC containers.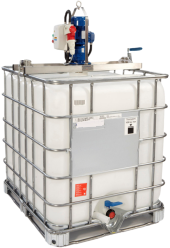 STAINLESS STEEL AGITATOR FOR IBC CONTAINERS
Fixed stainless steel agitator with PVC flange for application on open or closed containers.
Designed for mixing products with a maximum density of 40º Bé and a viscosity of not more than 1,500 cps., at atmospheric pressure.
For tanks up to 1000 liters.